In the midst of my online shopping frenzy today, it occurred to me that some of my purchases were things I never would have purchased two years ago, or perhaps even last year!  Even my personal style is much different than it was just a short time ago.  This reminded me of a "gosh, we're old" anecdote:
A few weeks ago, a girlfriend made dinner for a few of our friends and I, and afterward, we were putting away the leftovers when two of my friends remarked on how fabulous a piece of my friend's Tupperware was. This led my other friend to promptly retort that we "officially know we're in our twenties."
It's true–it makes me feel a little old to be so into dinner parties, decor, and kitchen gadgets, but alas, my life can no longer center around push-up bras and hot lingerie (though they are still a pretty big part of my life, obviously).
Anyway, all the sitting around time I had to deal with today led me to fill the time in one of my most favourite ways–shopping!  Hell yes.  What recession?
This was actually very good for me, because the absence of drinking and cigarettes (I think I would literally sell my soul for one) and food (!!) in my life has left me feeling very under indulged and cranky–not to mention I have been playing shopping nazi with myself for a long time, so I went a bit crazy with the shopping, but it was entirely necessary in my self-centered, overly self-indulgent world.
Yes, it is good to be young and perhaps a bit too selfish.
(And just a little disclaimer–I am choosing not to fall victim to my perpetual problem with "spending shame" today, due to my desire to share my fabulous finds with others.  Therefore, my altruism is overriding my desire to hide my materialistic tendencies, so don't hate! (-:  I know…I deserve an award or something for being so selfless.)
So, I shall share with you some cool finds I scored today, almost all of which were on sale (hooray!!):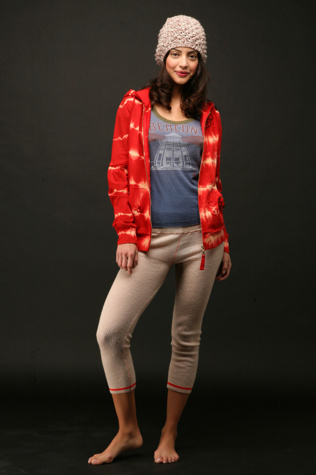 Free People Cashmere Leggings
Need I say more?? I am so amped to wear these, cashmere is my favourite thing ever, ever, ever…and leggings are so comfortable!  In other words I will probably be wearing these a bit too often.
($99.95 down from $128.00 at freepeople.com)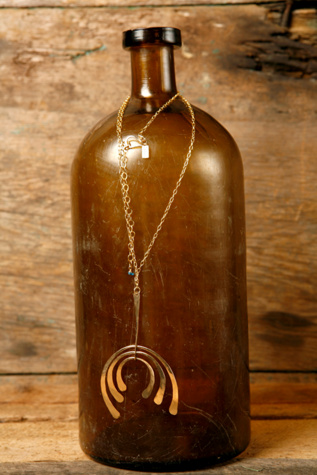 Free People Wishbone Necklace
I thought this was way cool.  I usually wear a few necklaces and this one looks good for layering, not to mention I'm getting more into wearing mutiple kinds of metal (I'm generally not a gold girl) so I thought this was cool.  Plus, it reminds me of pulling on the wishbone at Thanksgiving as a child.  Who doesn't miss that?!
($49.95 down from $198.00 at freepeople.com)
Anthropologie Suspended Pearl Ring
I think this is so cool.  I'm crazy about pearls and this is a funky/interesting piece that incorporates them.  I'm super into it, and it was also super on sale! Yippee!
($79.95 down from $138.00 at anthropologie.com)
Random Other Stuff From Anthro Which I Cannot Find Photos Of, But Which Are Awesome and I Encourage You To Check Out
(Alternative Heading: Evidence That I Am Old)
Spice Mill—$12.95 down from $34.00
Very pretty and also quite reasonably priced!
Giraffe Measuring Spoons—$19.95 down from $28.00
These are so effing cute I just could not resist!  Also, I am a pretty big baker but also quite lazy, so I usually refrain from measuring ingredients, which probably isn't the best idea.  So, I think purchasing measuring spoons is a step in the right direction!
Vine Perfume Bottle—$7.95 down from $28.00
I have such a weakness for pretty little things, and probably none more so than perfume bottles.  Anthropologie always has beautiful ones, and I just couldn't resist this one at such a great price!
Parisian Cafe Apron—$32.00
Okay. Make fun of me all you want.  I know this a really suburban move, not to mention the fact that "I'm not old enough to wear an apron" (quotation courtesy of Marley)…but I like it, and I do not like getting flour/sugar/etc. all over myself whilst baking.  So, get over it.  Or, better yet, embrace the uncool.  (This is my general modus operandi in life, fyi!)
Ice Breaker Dress–$119.95 down from $228.00
This is a great brunch dress, or perhaps a party, with the right shoe.  I think it's really refreshing architecturally, and I like it because it's fashionable without being overly sexy. I'm a pretty busty chick and sometimes it is difficult for me to find dresses that don't look too sexy (i.e. show a tacky amount of cleavage) on me, but that are still stylish and not frumpalicious (adj. frumpily delicious–except not).  So this is cool without being too revealing, in my opinion.
Victoria's Secret Vest
Victoria's Secret Suit
I actually really like their suits.  I know my mother would gasp at this notion, and some may find the idea tacky, but I say don't knock it until you try it. Obviously, when it comes to suits, quality is a issue and therefore Victoria's Secret is probably not the *best* choice…that said, I feel that for my age, some of my nicer suits come on too strong.  These suits actually have a nice silhouette and with the super cheap prices, you can have them custom tailored (and have the buttons changed), which is uber-important and does a lot to increase the quality/look of the suit.  Moreover, I would highly recommend going with the color black, because the fabric quality with these suits isn't really the best, and I think that is far more noticeable with lighter colors.  All of that said, I really like this suit (I'm very into the slouchy/extra-wide-leg look), and the vest, and am excited it was such a steal!
(Vest-$19.99 [!!] down from $59.50 @ VictoriasSecret.com)
( Blazer–$29.99 down from $178.00, and Pant–$19.99 down from $88.00 [!!]–link here)
Victoria's Secret is not my favourite lingerie place (I'm totally a trashy lingerie girl) but I did purchase a lot of stuff on sale…because I'm that girl, the one who buys lingerie even though she has no one to wear it for.  Ha!  I need something to force me to keep going to the gym, after all.  However, I am not going to post it on here, because that would be simply indecent!  But here is a link to the lingerie they have on sale–and there's a lot! (Hint, hint to the men out there–if you are a slacker and have not already purchased something for V-day for your lover!)
Of course I also had to hit up my ultimate weakness, aka American Apparel, but I'm not going to post the stuff because it was sadly not on sale nor exciting! However in the interest of any men out there who may be looking for a Valentine's Day present still, I will post one of my favourite products of theirs:
They have the BEST thigh-highs ever.  Why?  Because they are socks, not stockings.  Ergo, they are crazy comfortable!!  I wear these all the time because they are super cool ways to stay warm during the winter/in dresses and they are seriously so very comfortable.  However, they also have a second purpose, which is in the bedroom as BC is quite crazy for them–whether or not they are as sexy as true thigh-highs, I do not know, but they are definitely infinitely better in my opinion, because sexy + practical is awesome. :) :) :)  They are $17.00 @ americanapparel.net.
For those not familiar with American Apparel, I am a huge fan of it because although the prices are a bit high, this is for a very good reason–their clothing is American-made and their company has very ethically rigorous policies.  Aside from the fact that I passionately support their ideals, their clothing is also very high quality, in my opinion.  I don't want to inject any unnecessary seriousness into this delightfully frivolous posting, but it is a really wonderful company and I strongly encourage you to purchase something from them!
Alright this concludes my shopping binge/ADHD coping mechanism, and I hope someone out there enjoys some of the deals I have found today because they got me quite excited.  Just don't tell anyone–I have a reputation to protect which does not include my materialistic tendencies!  (Hah, that is a joke.  Mostly.)
Writing this post has been a welcome distraction from the piles of work I have neglected this weekend.  :( I am very sad that I now must rouse my brain from its brief holiday!
I will update you on my super fun weekend at a later date! As if you care! Hah…(sorry still a bit loopy from my 'medication')
Enjoy what is left of the weekend, people!! :) :) :) :)
xx Charlee